Mobility Aids for Elderly People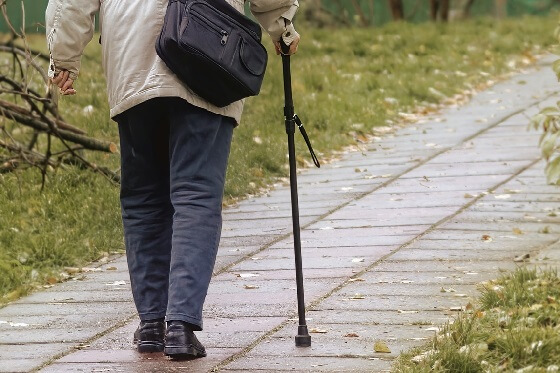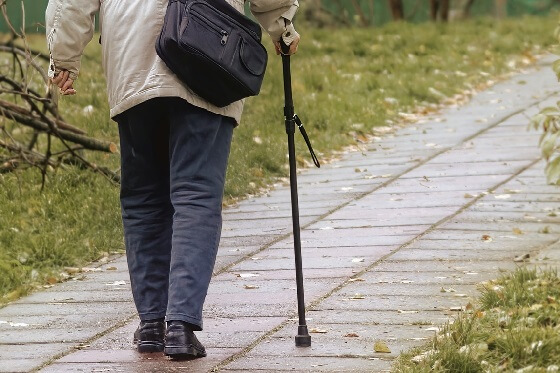 Mobility Aids for Elderly People
As we get older, our bodies can begin to weaken. As such, moving around may begin to prove challenging. However, it is important that we stay active, especially in later life. Fortunately, there are pieces of equipment available that can provide valuable support. Here are some examples of mobility aids that can make life easier.
Walking Sticks
Opting for a walking stick may feel like an admission of weakness, but your wellbeing is more important than your pride. Walking sticks offer additional support when walking, allowing you to get out and about.
They are available in a wide range of sizes, and there are a multitude of designs to choose from. Therefore, it is easy to find one of the correct length for you. Traditionally, walking sticks are constructed with wood, and you can still purchase these if you so choose. However, weight-bearing models as recommended by the NHS come in aluminium or carbon fibre. These are designed to bear your full weight, offering excellent support.
If you do not always need a walking stick, using one only when tiredness strikes, then a folding stick may be ideal for you. These handy pieces of equipment can be easily stored away in a bag when not in use and are quick to unfold when you need the support.
Walking Frames
If you need extra support for movement and balance, a walking frame may be a better option. Also known as Zimmer frames, these mobility aids offer considerable support when moving around. They are lightweight to ensure they can be moved but are also sturdy so that you can use them like extra legs to support your body.
Like walking sticks, there are various designs available to you. Some have four rubber feet, whilst others may have a pair of wheels to aid with natural movement. Some models of walking frame are height adjustable, offering extra adaptability to your needs.
Rollators
Also known as trolley walkers, a rollator is a piece of equipment with wheels and brakes, giving you extra control of your mobility. They work similarly to a walking frame, taking some of your bodyweight away from your legs and supporting your movements.
Many rollators come with additional accessories such as caddies for holding your personal items or seats for when you need a short rest. They are great for encouraging your independence, as you can spend time out of the house knowing you can take a rest when needed.
Wheelchairs
You may think that a wheelchair is only necessary if you cannot walk around, but this is not always the case. Sometimes having a wheelchair available to you can help encourage you to keep mobile. Like a rollator, you can opt to sit down only when you feel you need to.
If your doctor thinks you may benefit from a wheelchair, they will offer you an appointment with the NHS Wheelchair Service. If you are provided with a wheelchair, it will not cost you anything. Alternatively, you can request a voucher towards the cost of a wheelchair of your own.
Even if the NHS does not consider a wheelchair necessary, you can still purchase one from a provider. Some are also foldable, making them easily transportable mobility aids.
Mobility Scooters
For further independence, you may want to choose a mobility scooter. These electric-powered vehicles can help you get around when longer distances pose a challenge. Class 2 scooters cannot exceed 4mph and are designed for use on pathways. However, a Class 3 scooter is intended for use on the roads and can reach speeds of 8mph; these need to be registered with the DVLA.
You do not have to pay road tax on mobility scooters. It is advised, however, that you insure them in case of accidents. Scooters can also be rented for short periods, when necessary, which is ideal for discovering whether they are right got you.

Stairlifts
Of course, it is also important that you feel confident moving around your own home. If you have chosen to remain at home, and have no interest in downsizing, then stairs can begin to pose a problem. Fortunately, a stair lift can a highly beneficial mobility aid at home. There are a range of models available, which can be fitted to most stairways.
Bathroom Aids
One of the most important places to stay safe is in your bathroom. Your bathroom could become hazardous after a bath or shower, for example, and often flooring can be slippery even when not wet. Alternatively, you may simply struggle to lift yourself off the toilet or out of the bath.
Bathroom aids, such as grab rails and walk-in showers, can help to reduce these hazards. For example, a grab rail gives you something to lean on when moving around, without having to bring a walking frame into the bathroom.
Homecare from Abing
It is important to remember that there is nothing wrong with needing some extra support from time to time. Whilst mobility aids can help with day-to-day activities, sometimes you may need an extra pair of hands around the house. This is where Abing Homecare can help.
Our professional carers offer peace of mind to you and your loved ones by providing additional support around the house. They can offer assistance when you go to bed or help to prepare meals. Sometimes you may need someone to accompany you on an errand.
We offer two main care packages: domiciliary and live-in.
A domiciliary carer attends your property at pre-arranged times to provide support. You may receive multiple visits a day, or one visit a week; it is entirely up to you. Live-in carers become full-time fixtures in your home, being on-hand 24 hours a day. They can join you on journeys out and provide all the support you need throughout the day.
When you choose Abing Homecare, we will carry out a needs assessment to ensure the care you receive is tailored to you. Our customers also receive a personal alarm for extra reassurance.
To find out more about our services, visit the Help Hub or check out our FAQs. If you have any questions, please do not hesitate to get in touch. You can send us a message using our handy form, or call our friendly team on 0800 008 7000.